Name: yami sango
Alias: Erin
Status: Author
Join Date: 06/03/06
Last Logged In: 04/19/13
Skin: Pink
Contact:
omgitschazztastic
Links:
www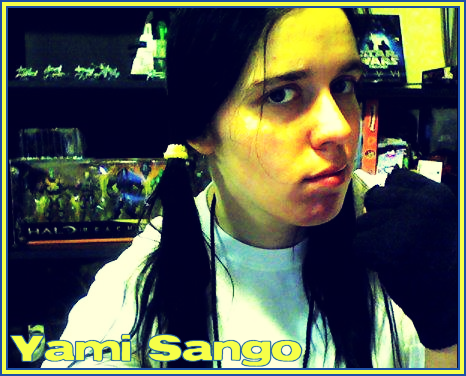 UPDATE: October 26,2012
I added a new story,
Carry on Dancing
, its Zelgadis/You. :)
WORKING ON:
Altair/You (Assassin's Creed): I'm actually working on 2 different one-shots for Altair. One was supposed to be with Ezio... But I love Altair more. :]
Chapter 3 of
Giving in
: The next chapter is with Juudai. ;3 I have the first portion written. I'm kinda stuck on it though.
Chapter 4 of
Pieces of a Dream
: I'm stuck on this chapter... I'm basically done with it, I just don't like it. *sighs*
Chapter 2 of
Turbulent Storm
: This chapter is done... I don't like the way it turned out.
Chazz/You (Yu-Gi-Oh! GX): I'm a quarter done with this one-shot. It's set 10 years into the future. :D
Jim/You (Yu-Gi-Oh! GX): A one-shot. I have the idea in my head, I haven't gotten the chance to write it down. :[