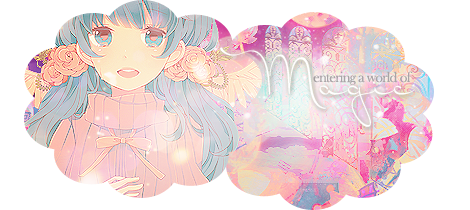 •Author info
Name:
Chantel
Nicknames:
Chika Chan, Spy Chan, Chan Chan, Chanamour, Lady Chan, Bean Chan (All affectionately given to me by friends who think it's fun to give me ridiculous nicknames based off of the first four letters of my name and the Japanese honorific. They'll never stop; this list will keep growing :|)
Age:
21
Birthday:
March 12, and a proud pisces/water monkey in the Chinese Zodiac
Nationality:
African American, Cherokee Indian, Portuguese
Height:
4'10"
Personality:
Horribly quirky beneath a thick layer of shyness; a listener rather than a talker; a derp
Occupation:
Full time student, double majoring in Computer Arts and Fine Arts with a possible minor in English
Current Fandoms:
Persona 4, Devil May Cry, Pokemon, Radiant Historia (I just beat the game. My feels are overflowing), Zero Escape: 999
Favorite Characters:
Currently Zack Fair (my poor, doomed baby!) from Final Fantasy 7, Stocke/Ernst from Radiant Historia, Junpei from Zero Escape: 999, N and Curtis/Christophe from Pokemon Black 2.
My three meals a day consist of art, reading and writing topped off with a dessert comprised of video games. I'm a pretty easy going person, generally rather meek, but I like to talk to new people whenever I get the chance.
I was previously named Cissnei for all of you who may be confused by my sudden name change. You can also find me on Ghosts of the Vanguard with the same name, Honey and Milk. If anyone wants to talk about any of my stories, or anything in general really, feel free to send me a message!
[xxx]
•2/12/2014
Life, why you no get better? :T It's been so stressful lately that I haven't even had the time to log onto my account since late December. I'm so far behind on reading and writing and just...ugh. But on the bright side, I've finally completed my first story! I'm super happy about it, actually. I finally feel like a full fledged author now that I have a finished story under my belt.
Updates are going to be scarce, but I'll be working on my stories as much as I can!
[xxx]
•Stories


Awkward Encounters: Devil May Cry 4
Reader x Nero
10% Complete
There are people who know just the right thing to say in any given situation. You unfortunately are not one of those people.






Smile: Ao no Exorcist
Rin x Reader x Yukio
5% Complete
Your mother once had a wonderful smile. It became tarnished throughout the years, now a threadbare afterimage of a beautiful visage. You swore you would keep on smiling, even when she couldn't.
(Currently being edited)







Magic Tricks: Persona 4
Reader x Yosuke
5% Complete
Five months was all you had left; approximately one hundred and fifty-two days to grow as a person, live life to the fullest, and possibly beat your delusional brain into proper working order. In that time you had absolutely no intention of seeking out a long lasting and meaningful relationship with a moderately attractive underclassmen...

...which is unfortunate for you, because while he may not have been a magician he could certainly play tricks with your heart.






Idiosyncrasy
Reader x N
10% Complete
His quirks were numerous, his ideals steadfast and uncompromising, and his feelings for you were hard to place.






Sweater Weather
Reader x Jack Frost
100% complete
Winter is a stressful season for a girl who hates snow.







Blindside: Final Fantasy 7
Zack x Reader x Cloud
In retrospect, you should have seen the end coming from a mile away.
(Currently titled So in love with you but will undergo a name change once I begin rewriting it)



[xxx]
•To readers and reviewers
You guys are all precious. I can't thank you enough for taking the time out of your day to glance at my silly stories or leave a review. Know that they brighten up my day immensely when I see others enjoy the things that I write. It in turn makes me strive to become a better author in the hopes that people will continue to like my work as I continue to grow. So thank you!
Don't be shy! If you have any questions, ideas, or anything else that pertains to my stories that you'd like to talk about feel free to send me a message or drop a review. I'd be more than happy to talk over it with you!
Thank you and have a nice day!
Sleep well
Sit up straight
Make sure to drink water every now and then
*hug*