Hiya. I'm known on this site as Prophet Lexicon, as well as several other names, like Koala, Prophet, Lexicon, Lexi, Awesome-tastic-lady, among others. You can call me anything you want to, as long as it's not overly offensive...well, actually, I doubt I'll care even if it is offensive. It doesn't reflect on me, it reflects on you.
I'm working towards becoming a published novelist. I write poetry and short stories, as well. My true love is original fiction, though I write fanfiction upon request (and to keep my pencil sharp when I'm not focused on my own work). I love to write, and read, and edit my work (and the work of others, too). I like playing video games as long as I have people to play them with. I'm quite a social butterfly, but that's not my primary function; there are whole other sides of me you may or may not see. Depends on how we get along. All things considered, I think I'm a rather nice person. One would have to try to earn my enmity, and even then it's not guaranteed; I'm very patient with people not related to me. (Yes, I'm aware of how odd that sounds. Bite me if you don't like it.)
If you want to contact me, the "Contact" link is right there. I don't bite; I love to meet new people and make friends. I'm open to editing people's work, and I provide constructive criticism. (I'm considering editing as a profession, only if writing doesn't work out for me).
Also, I've got a couple accounts on some other websites:
Sakura.no.Akuma
on Quizilla (in case you want to read my disastrous first tries at writing);
Lady Acerbus
on Mibba;
Lady Acerbus
on Wattpad (I didn't even remember this until now);
Prophet Lexicon
on StoryWrite/Allpoetry.
That's all I have to say for now. Have an awesome-tastic amazing day!
---
I write like
J. D. Salinger
I Write Like by Mémoires, journal software. Analyze your writing!
I swear, this thing is broken...
---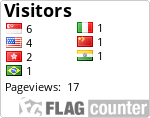 Yeah, that's just me being curious as to how diverse my readers are (approximately).